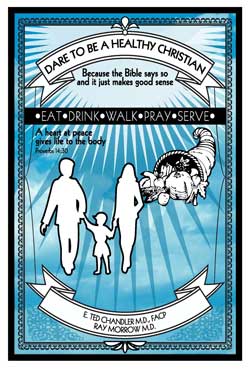 Program Structure
Dare To Be A Healthy Christian Presentation
- A 40 minute DVD presentation introducing the case for why good health is important in the Christian community and offering guidance on how to start improving the health of church members. This can be shown and discussed on a Wednesday or Sunday night.
The presentation can be shown as a Flash file online (Recommended).
Watch the full presentation
Or, you can request a Presentation DVD. Just contact us by Email to have a DVD mailed to you.
Request a Presentation DVD
Dare Leader
- One church member should take on the role of
Dare Leader
with the responsibility of promotion, showing the presentation, and leading a discussion based on their study of the Health Guide and the Spiritual Principles of Change. The
Dare Leader
is also responsible for handing out, collecting, and mailing in the surveys (see below). Clearance from the pastor and other church leaders can be aided be handing out the Information Sheet. All the needed PDF handouts are listed below:
Church Flyers
Health Guide
Spiritual Principles of Change
Survey
Information Sheet
Dare To Be A Healthy Christian Health Guide
- A one month program consisting of 4 one week lessons focusing each week on one of the 4 Principles of Healthy Living. Each week will start with a Hope and Healing Healthnote (to be read on each Sunday) detailing practical medical advice about how to incorporate each principle into your daily life. The weekly program includes daily devotional readings featuring all of the New Testament scripture verses which reference the Holy Spirit. These writings will challenge Christians to trust in and use the power of the Holy Spirit to do what the rest of the world cannot do – change their health habits from those of destruction to regeneration, from death to life, from darkness to Light, from a life conformed to this world to a life transformed by Jesus.
Download the Health Guide
Surveys
- Group participants will be anonymously surveyed on the frequency of following the 4 Principles along with the presence of individual diseases (diabetes, high blood pressure, high cholesterol, heart disease). This information will be analyzed and compared to National Standards. A summary sheet with recommendations about each church's health will be sent to the
Dare Leader
for distribution within the church.
For Questions see the
About Us
section for Email or phone information.